NC State has set a goal to divert 70 percent of waste from landfills: a pursuit that requires champions from across the campus identifying practical solutions.
Erin Ives, NC State Student Centers' assistant director of building services, is one of those champions. Her latest efforts are centered around discarded uniforms and unneeded office supplies and equipment.
"Uniforms, such as those for dining and facilities employees, don't last as long as other uniforms due to daily wear cooking and cleaning activities," explained Ives. "Uniforms with limited wear can be cleaned and reissued to other employees, but most are pretty worn out and need to be discarded."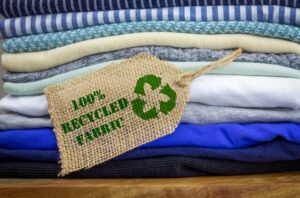 To ensure old uniforms are not made available to the public, (which in turn, could create a security issue, i.e. someone posing as a staff member to gain unauthorized access to campus spaces), Ives instituted a recycling program. Staff can drop old uniforms in a secure bin so they can take them to a facility where the cloth is recycled and repurposed for new clothing and materials.
The idea came to Ives from the Facilities Waste Reduction and Recycling (WRR), which first started recycling uniforms within their division. As the university sought to improve diversion rates, Ives was adamant that she wanted to prioritize "making it easy for people to do the right thing," and the uniform recycling program was a natural way to do that. She emphasized that the "vast majority of students and faculty will recycle, compost, and help divert waste in the right way if it's accessible to them," and that "people will do the right thing if it's easy."
In December, Ives and the facility enhancement team are also hosting a "Drop & Swap" event, where tenants of Talley Student Union and Witherspoon Student Center can drop off office supplies and items that they no longer need or use for other employees to claim and use in their workspaces. Through this event, Student Centers hopes that much of the items normally thrown out or donated will gain yet another life and avoid landfills. Ives also voiced how excited she is for staff to see the benefits of these types of events and hopes to see them in other divisions on campus soon.
"You have to have champions to make change, you have to have someone who wants to be a part of it. Once that person leaves, often times the change is gone," said Ives, about her long-term goals with these initiatives. "I want to tie in these programs so that it's not just connected to an individual but the community as a whole."